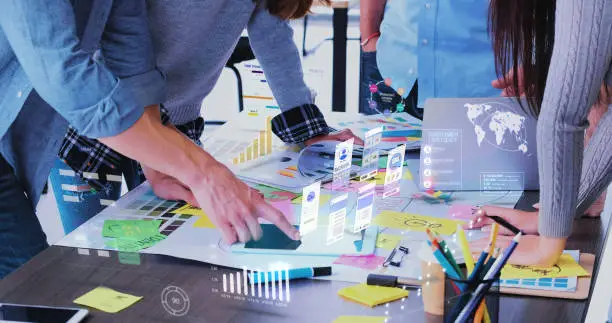 A well-thought-out brand strategy is vital to succeeding in today's fast-paced, cutthroat business climate. For starters, a brand strategy is a set of guidelines for developing and implementing your brand's identity to make it stand out from the crowd and connect with your ideal customers. From establishing brand principles and messaging to planning promotional initiatives, such a plan covers it all.
Building consumer confidence, expanding brand awareness, and increasing sales are all outcomes of a well-executed brand strategy. For your convenience, brand identity, market research, positioning, voice, message, and reputation management are all discussed in this article as integral parts of an effective brand strategy. If you're a new company trying to make a name for itself, or an established one hoping to sharpen your brand's approach, you'll find helpful advice and practical guidance in this book.
Mastering Brand Strategy: Key Principles and Best Practices
One of the most important aspects of creating a successful company is brand strategy. A powerful brand can set your goods and services apart from the competition and foster repeat business. Yet, creating a successful brand strategy needs rigorous preparation, investigation, and implementation. We'll look at the fundamental ideas and top recommendations for mastering brand strategy in this article.
Define Your Brand Identity
Defining your brand identity is the first step in creating an effective brand strategy. Identifying your brand's values, personality, and mission is necessary for this. Your company's overarching aims and objectives should be in line with your brand identity.
Start by asking yourself the following questions to determine your brand identity:
What distinguishing features define your brand?

What central beliefs guide you?

What is the mission of your company?

Whom are you trying to reach?
You can create a brand strategy that supports your objectives and appeals to your target audience if you have a firm grasp of your brand identity.
Conduct Market Research
A comprehensive understanding of your target market is necessary for effective brand planning. To do this, you must undertake market research to determine the needs, tastes, and habits of your target audience. Market research can be done in a variety of ways, such as through surveys, focus groups, and social media monitoring.
You can find important trends and insights that will guide your brand strategy by performing market research. For instance, you might discover that younger audiences are more receptive to social media marketing campaigns than to conventional advertising strategies.
Construct a Brand Positioning Statement
Your brand's distinctive value proposition is summarised in your brand positioning statement. It should convey the fundamental characteristics of your brand and set it out from the competitors. Your brand positioning statement needs to be memorable and simple to comprehend.
Think about the following when creating your brand positioning statement:
Which qualities best describe your brand?

What advantages come with using your goods or services?

What distinguishes your company's brand from the competition?

What does your company promise to its clients?
Everything in your marketing collateral, such as your website, social media profiles, and advertising campaigns, should include your brand positioning statement.
Develop a Brand Voice and Messaging
All of your marketing channels should have the same brand voice and messaging. Your website, social media accounts, and marketing initiatives fall under this category. Your brand personality and ideals should come through in your brand voice.
Think about the following when you establish your brand voice:
What are the tenor and aesthetics of your company?

What are the main points you wish to make?

What are the main feelings that your brand should arouse?
Once your brand voice has been established, you can create messaging that reflects your brand identity and appeals to your target market.
Keep an eye on your Brand's Reputation
To create a successful marketing strategy, it is vital to monitor your brand reputation. This entails monitoring brand references on social media and reviewing websites and other online venues. By keeping an eye on your brand's reputation, you may spot areas where you have room for improvement and quickly address any negative comments.
Consider using a social media listening tool to keep tabs on the perception of your brand. This will enable you to monitor brand mentions across many channels and instantly respond to customer feedback.
Conclusion
Careful planning, research, and execution are necessary to master brand strategy. You can build a powerful brand that connects with your target audience and sets your goods and services apart from the competition by defining your brand identity, conducting market research, creating a brand positioning statement, creating a brand voice and messaging, and keeping an eye on your brand reputation.